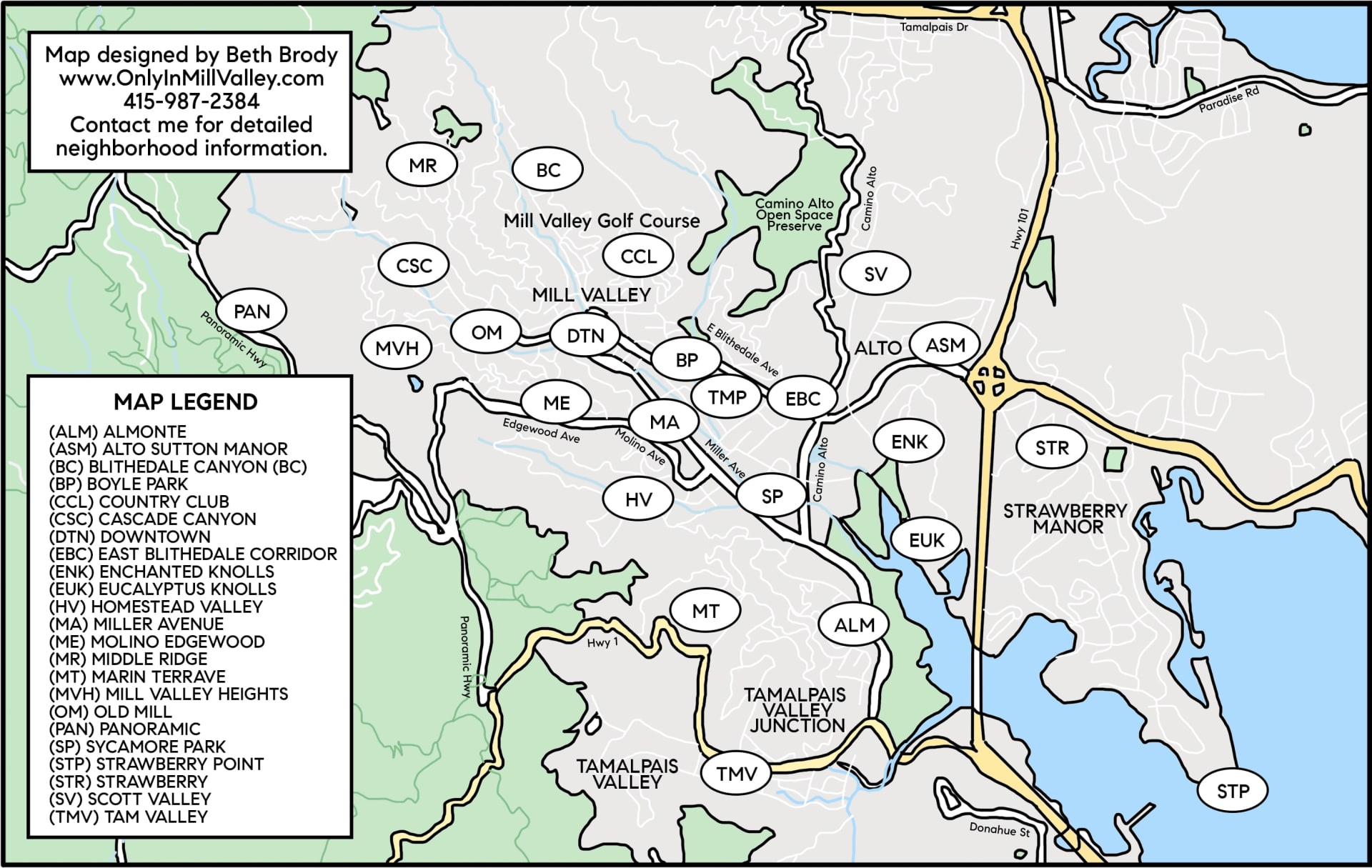 I have been selling homes in Marin since 1978 and have sold over 500 homes in my career all over Marin and Sonoma county. My heart and home are in Mill Valley and it's where the majority of my business is done.
I love Mill Valley, California! I was born and raised here and still can't find anyplace nicer.
Here are just a few of many reasons why I think Mill Valley is the best town in Marin County.
It's the only town in Marin where you can reach the mountain and the beach in 20 minutes without having to get on the highway
It has the best southern Marin locations, with one of the quickest commutes...Sausalito is the closest to the City.
It's located just 7.3 miles north of the Golden Gate Bridge.
It has more than one way into town. Once you live in Marin you understand why that's important.
It has flat land and city views and is the only town in Marin that has a truly thriving and well-loved downtown.
Here is Mill Valley's Wikipedia page. https://en.wikipedia.org/wiki/Mill_Valley,_California
In addition to the statistics, you will find out about our colorful citizens and history.
I have hiked the Mill Valley trails since I was a little girl and now, I ride all over Marin on my e-bike. I thank my lucky stars that I live in such a wonderful place. It's magical and this little village is known for its quality lifestyle worldwide
I could go on and on……. but is it the right town for you?
Let's set up some time to talk and if Mill Valley is where your heart is set, then we can dig deeper into what neighborhood would be best for you.
Mill Valley neighborhoods are very distinct! Some folks want the walk to town, while others want complete privacy. Depending on what you like, I will help you understand the characteristics of each neighborhood, as some are subtle. Understanding them helps you make the right choice for you and your family.
There are approximately 19 different neighborhoods in Mill Valley:
I have shown you most on the map above and would be happy to go into very specific detail once we start working together and I get to know you better. I can then explain the supply, demand, and pricing differential.
I look forward to helping you fall in love with Mill Valley too and helping you find your place in the world!